Sunday, April 30, 2006
Rising Motor Fuel Prices
Saturday, April 29, 2006
Va.: Smart Growth means lower taxes? Perhaps not.
Property Rights Help for Mobile Home Owners
Friday, April 28, 2006
Wednesday, April 26, 2006
Two sources speak out against the Mississippi "Railroad to Nowhere"
Tuesday, April 25, 2006
Monday, April 24, 2006
D.C.: Transit- (and train-) oriented development
OK, I'll admit it - I'm a railfan. I love to watch trains, and the anticipation of waiting for a CSX or NS freight at a grade crossing is something I find enjoyable (and I'd never, ever try to "beat the train," and not just because it's unsafe, but because it would deprive me of a train to watch).
Having said that, here are some photographs that I took recently of some fairly new homes that were built next to the
Takoma Metrorail
station on the Red Line in the Takoma area of the District of Columbia. In addition to being close to the Metro stop (they are), they are also hard by the CSX (ex-B&O)
Metropolitan Subdivision
tracks, which run on either side of the Red Line at this location.
First
, a development that was built at the corner of Blair Road and Cedar Street, N.W., and just to the west of the Metropolitan Sub and Red Line tracks.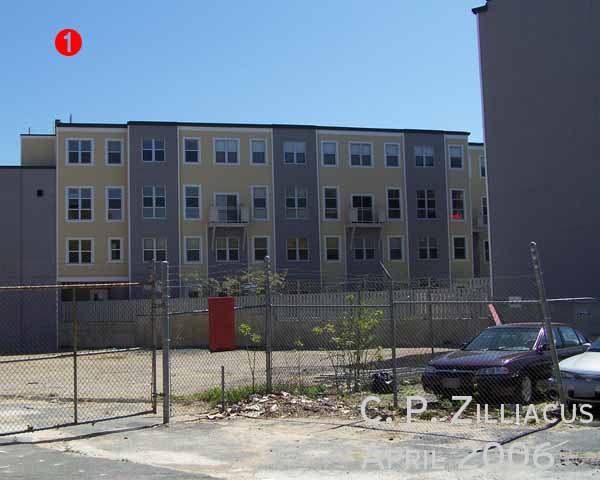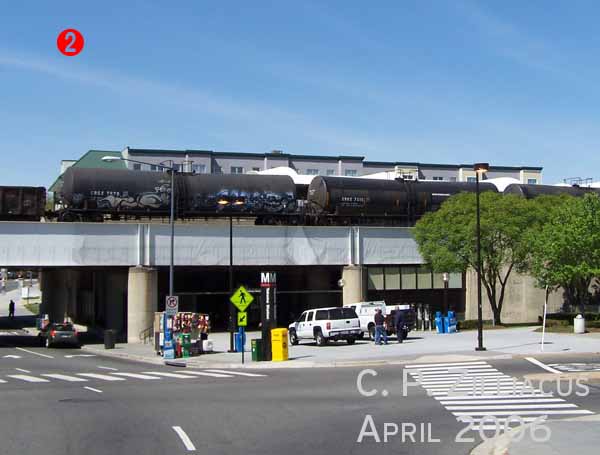 Images 1 and 2 are the front and rear of the same units. In the second image, we see the tops of the buildings peering over the roof the the Metro station and a passing CSX freight train.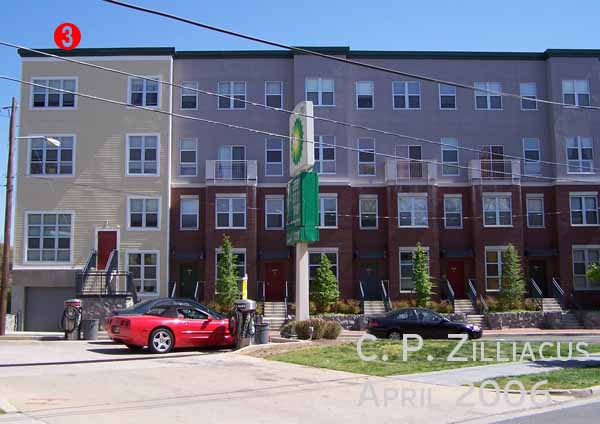 Image 3 is of the "other" side of this "V"-shaped complex, which fronts onto Blair Road, N.W. (and the BP gas station). Note also the garage entrance on the left side of this picture.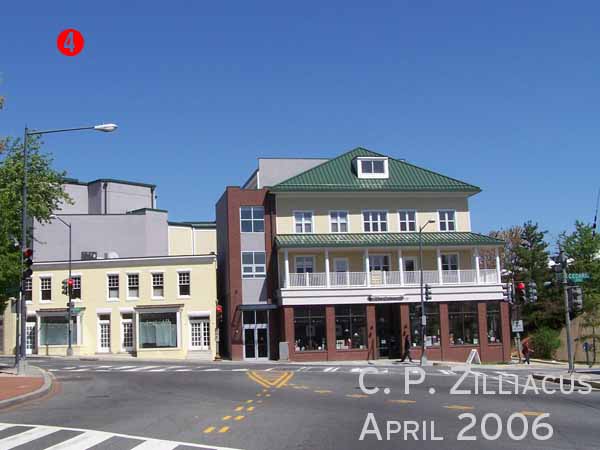 Image 4 is taken from 4th Street, N.W. looking north, at two old facades that were used to connect the legs of the "V". The garage exit is on the right of this picture, next to the Metro station entrance (which is out of the picture on the right).
Now I don't think any of this is very attractive, and it does not strike me as having much of a "sense of place."
Second
, on the east side of the tracks, in the 300 block of Carroll Street, N.W. is another project that was completed recently.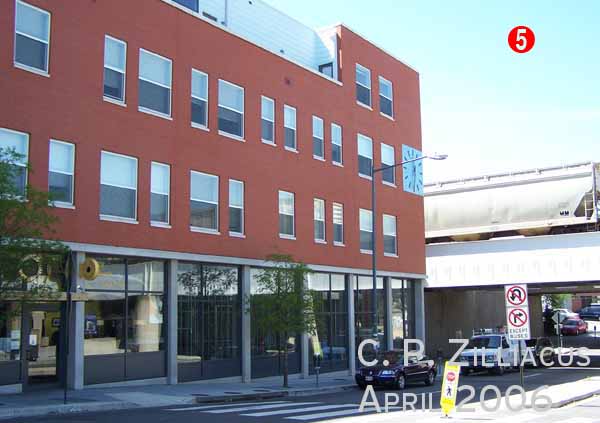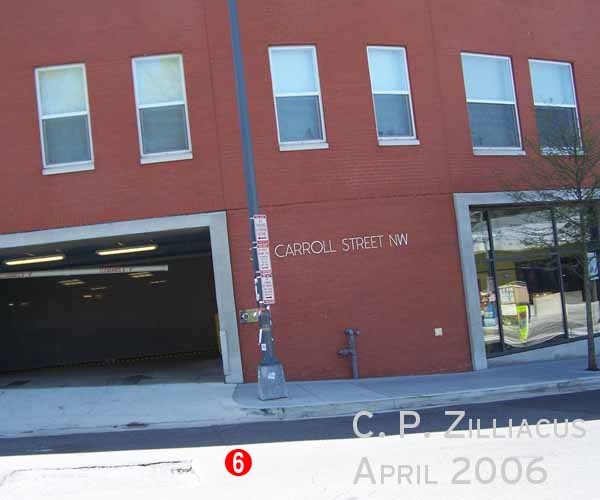 In image 5 we also see a CSX train rumbling by. Image 6 shows the entrance to the parking garage.
While I generally like buildings built of brick (my grandfather was a mason), this does not do much for me, even though it's more attractive than the project above.
And in spite of my interest in trains, I don't think I'd want to be this close to a mainline railroad! Were I to live there, I would probably get used to the sound of the motive power and the trains, but I wonder if anyone considered what would happen in the event of a derailment?
Click on the link below for a Google map of the area. Note that Cedar Street, N.W. changes names as it crosses under the Metropolitan Subdivision's tracks for some reason - east of the tracks, it's Carroll Street, N.W. Note also that the satellite image of this area was taken before either of these projects was built, though the Takoma Metrorail station, and the Metropolitan Sub tracks are clearly visible.
Blair Road and 4th Street, N.W., Washington, D.C.
Air quality: Joel Schwartz comments on propsed changes to federal particulate ("PM2.5") standards
Montgomery County's Agricultural Preserve - who are the roads for?
Friday, April 21, 2006
Thursday, April 20, 2006
Wednesday, April 19, 2006
Tuesday, April 18, 2006
Perhaps Portland should consider the New York City experience with aerial trams?
Anne Applebaum on opposition to wind-driven electric power generation
Monday, April 17, 2006
Sunday, April 16, 2006
Saturday, April 15, 2006
So you think
your

commute is bad?
Friday, April 14, 2006
Garden apartments - suburban densification gone wrong?
Thursday, April 13, 2006
Symbolic Stand Against Annexation
Wednesday, April 12, 2006
Tuesday, April 11, 2006
More on Maryland's InterCounty Connector
Monday, April 10, 2006
Federally-mandated Growth Controls Across Four States Proposed
Two Classes of Homeowners
Sunday, April 09, 2006
Paris Mass Transit Priority: $1B Loss & More Pollution
Saturday, April 08, 2006
Friday, April 07, 2006
Wednesday, April 05, 2006
Tuesday, April 04, 2006
Monday, April 03, 2006
Sunday, April 02, 2006
Another effort to make Montgomery County, Md. what it isn't - a dense city
New Mexico: Where's Wile E. Coyote?
More residential density is going to make this better?
Saturday, April 01, 2006
Black Bears - in Maryland
Va.: Extending the Washington Metrorail system to Dulles Airport and beyond