Los Angeles transit officials are eagerly contemplating the opportunity to spend money converting the Orange bus-rapid transit line into a light-rail line. To promote this idea, they are letting people know that light rail will be faster, more comfortable, and operate more frequently (so riders will be less likely to have to stand) than buses.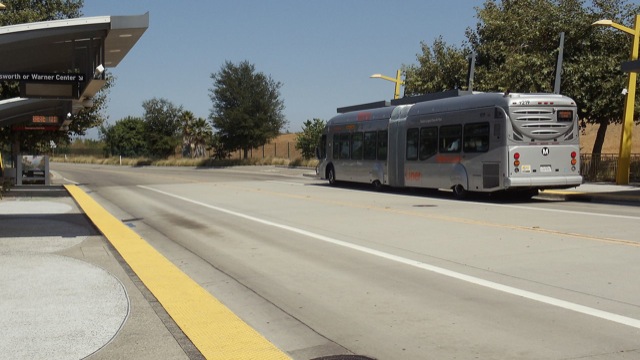 These lanes are exclusively dedicated to buses, but transit agency officials say they need to replace them with rail because there is no room to run more than one bus every eight minutes.
Of course, all of these things are wrong. The current bus line averages 26 mph, about 4 mph faster than the average light-rail line. Buses can be just as comfortable as light rail, and when vehicles are full, a higher percentage of bus riders get to sit down (about two-thirds as opposed to less than half). As for frequencies, the current schedule of the Orange line calls for one bus every eight minutes at rush hour. Since the road is closed to all other traffic, somehow I think they could squeeze a few more in if they wanted to.